By Simon Stevens, Dell Technologies Engineering Technologist. May 2023
Regular readers of my previous blogs will know that I focus my efforts on all things to do with Dell PowerFlex. However, it should come as no surprise to hear that when I talk customers, I am rarely having a discussion about any single topic in isolation. Instead, most customer conversations generally cover the entire range of infrastructure needs – businesses are looking for better outcomes, so understanding the current business challenges will usually lead one down a path where multiple options get discussed. This tends to remain true when I ask where their data and applications reside. Nearly all of our customers today operate with what can be called a multicloud strategy – that is to say, they operate two or more clouds, both public and private. However, what they also commonly mention is that, while operating infrastructure both on-prem and on public clouds does give numerous benefits, they often also run into complexities that may not have been apparent before the decision to go multicloud was made.
At this point, I usually move onto describing the Dell "Multicloud by Design" strategy to them. First announced back at Dell Tech World 2022, this was our vision of simplifying the deployment and management of customers' multicloud environments with a consistent operational experience, helping customers to unlock the benefits of multicloud without being constrained by siloed ecosystems of proprietary tools and services. Now roll forward another year to now, and I am penning this blog while Dell Tech World 2023 is underway. Even on Day One, a number of key announcements have been made that strengthen the Dell Multicloud by Design strategy. In this blog, I hope to detail a number of them.
For those who have not yet heard the Dell Multicloud by Design Strategy (and if you have not – where have you been over the last 12 months ?!?!), we have tried to simplify the strategy by breaking the Dell ecosystem into three, easy to understand constituent parts, as follows:
1. Ground to Cloud – Bringing Dells' industry-leading software offerings to the public cloud.
2. Cloud to Ground – Bringing cloud stacks to data center, colo and edge environments.
            3. APEX SaaS Portal – Managing your multicloud resources through a single SaaS pane of glass.
The handy little animation below shows how this ecosystem all fits together to provide the Dell Multicloud Experience:
Having seen what the Dell APEX Multicloud ecosystem looks like, let us zoom into each of these three components and explain what has been announced at this years Dell Tech World (Referred to as DTW from now on, for the sake of brevity).
1. Ground to Cloud – Multicloud Storage
The whole premise of "Ground to Cloud" is the ability to take Dell's innovative and industry-leading software offerings and make them available across all of the main public cloud providers. Doing this means that customers are able to benefit from having consistent operations wherever their data resides, be that on-prem or in the public cloud, whilst also benefitting from the ability to spin up workloads quickly and at scale. As such, the trailblazers for this approach have been Dell's Data Protection solutions – these have already been available across AWS, Azure and GCP for a number of years, with over 17 Exabytes of customer data already being protected by Dell in public clouds. These offerings are known as "Dell APEX Protection Storage for Public Cloud".
So what about Cloud Storage and the ability to use Dell block, file & object storage software on public cloud platforms? At DTW 2022, we announced Project Alpine, which was an initiative to bring the unique software IP of our leading storage platforms to the major public clouds. The first fruit of this initiative swiftly followed, when we released "PowerFlex for AWS" later in 2022. So what has been announced at DTW 2023 then? Well, it gives me great pleasure to introduce you all to the "APEX Storage for Public Cloud" portfolio….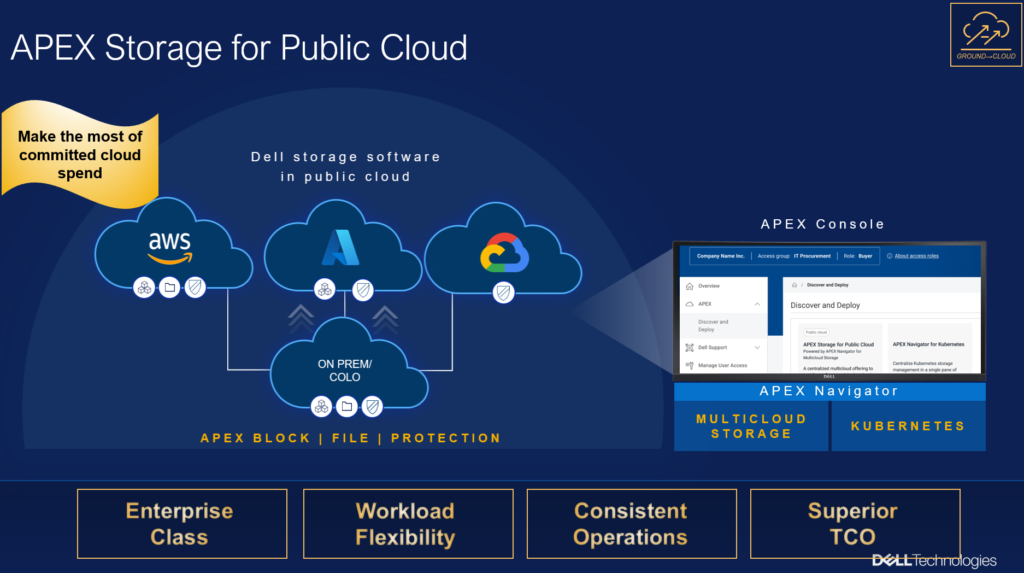 Dell APEX Storage for Public Cloud now encompasses the following offerings, with more on the way:
            APEX Block Storage in AWS – new, replacing the previous "PowerFlex on AWS" offering
            APEX Block Storage in Microsoft Azure – new
            APEX File Storage in AWS – new
APEX Protection Storage for Public Cloud (AWS, Azure, GCP and Alibaba cloud)
As I mentioned earlier, "PowerFlex for AWS" was released in 2022, however, this offering has now been superceded by "APEX Block Storage for AWS". The main difference between the two being that the APEX Storage for Public Cloud offerings all leverage the new "APEX Cloud Navigator for Multicloud Storage" APEX Console SaaS Portal as part of the offer – I will expand on this later in this article, suffice to say for now that the intention here is to provide customers with a simple, secure, storage software management portal that is able to deal with managing the different Dell Storage Software options being deployed across different public clouds, all centrally accessible within APEX Console.
Also announced at DTW 2023 is "APEX Block Storage for Azure", hence extending customer choice when it comes to selecting which major public cloud that customers wish to run our software on. You will not be surprised to learn that Dell PowerFlex is the product that underpins both of these APEX Block Storage choices. PowerFlex is, after all, ideally suited for running on public clouds. First of all – deep at its core, PowerFlex has always been a software product, which should make it simple to deploy on public clouds. Plus when you consider all of the benefits associated with PowerFlex – namely, it is highly scalable, it gives ultra levels of resilience, it provides high-performance/low-latency block storage – it is a natural fit for clouds, regardless of where they sit. APEX Block Storage in both AWS and Azure takes the basic infrastructure components available in each platform and federates them together to create a very resilient, high-performance, and scalable distributed storage platform.
With APEX Block Storage for AWS, customers can either use EBS volumes or EC2 instance stores to store user data. This gives customers choice in how they consume storage in AWS – obviously, using EBS volumes gives persistence of data across reboots, but introduces additional EBS costs. Alternatively, customers can instead choose to use EC2 instances and leverage the aggregation of ephemeral NVMe drives in order to create a storage platform that provides block storage performance that exceeds anything previously seen in public clouds, at an affordable price point!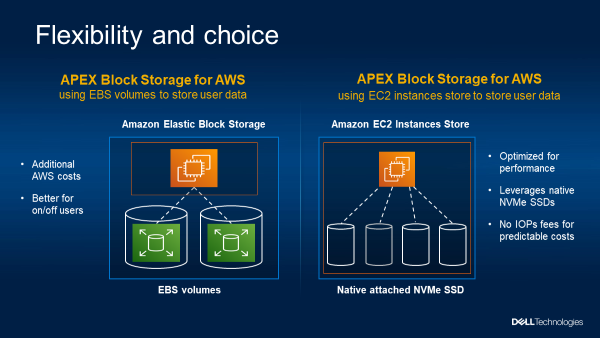 APEX Block Storage for Azure will follow later this year and it is expected that that will also give customers similar deployment choices. Expect to see a future blog where I delve into both offerings in more detail!
It would of course be remiss of me not to also give a quick shout out to "APEX File Storage for AWS", which was also recently announced and marks the first foray into providing Dell File Storage Software onto public clouds. Again, this is based on leading, proven on-premises technology – in this instance, PowerScale OneFS – and aims to provide customers with the benefits of common operations across cloud platforms, while providing the same features that customers already know and love, such as multi-protocol support (NFS, SMB, S3), SyncIQ native replication, snapshots, CloudPools and DRR. Please reach out to your Dell Account Rep for more details of any of the above! 
2. Cloud to Ground – Multicloud Infrastructure
So, now that we have covered "Ground to Cloud", the next part of the Multicloud by Design strategy is the "Cloud to Ground" layer. This is quite simply all about taking the most popular cloud stacks that are used in public clouds today and extending the ecosystem of their choice on-premises. At DTW 2023, we have introduced the Dell APEX Cloud Platforms in order to accomplish this. These are dedicated hybrid cloud appliances that allow customers to seamlessly access their preferred cloud services, while leveraging the increased performance and security normally associated with an on-premises solution.
The platforms are built on a common set of infrastructure building blocks from Dell, including our latest generation servers, highly scalable, high-performance software-defined storage (bonus points to anyone who can work out which software product this might be!!!), all tightly integrated with public cloud and Kubernetes orchestration stacks via unique, automated management and orchestration software. The end result is that customers can achieve operational excellence and consistent outcomes including automated deployment, simplified operations, automated upgrades and lifecycle management, regardless of which cloud ecosystem they choose.
We announced three different APEX Cloud Platforms at DTW 2023, these were developed in collaboration with Microsoft, Red Hat, and VMware, leveraging the long-standing partnerships and years of innovation and success that we have enjoyed with each partner. They are as follows:
APEX Cloud Platform for Microsoft Azure
APEX Cloud Platform for RedHat OpenShift
APEX Cloud Platform for VMware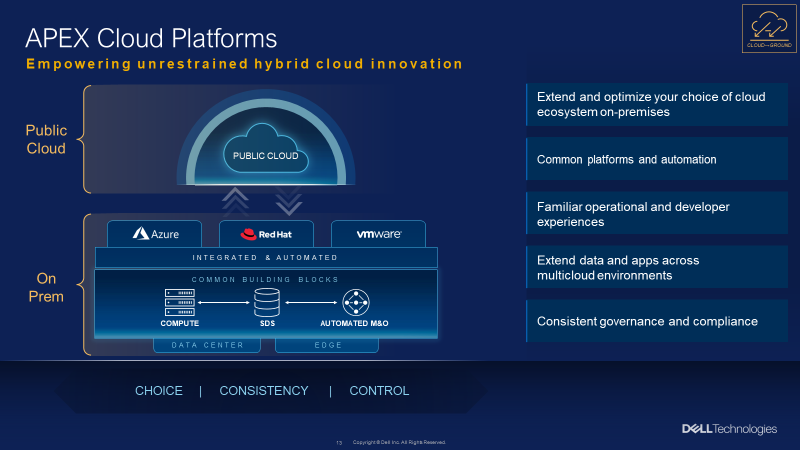 Harking back to the "Multicloud by Design" strategy, the three ACPs are built on a common set of building blocks, giving customers the same consistent deployment, lifecycle management and operational experience across the board. Full stack integration into the partner ecosystem software stack helps accelerate productivity and reduce skills gaps, because there is consistency between the software running across private, public, and edge locations for that ecosystem. Hence IT, DevOps and developers can all leverage the same, familiar toolsets, regardless of where workloads are running
And because the software-defined storage platform that is used in the APEX Cloud Platforms is the same SDS as that used by APEX Block Storage for Public Clouds (yes – here is the PowerFlex angle, at last!), then this means that the storage architectures also remain compatible, allowing for data and applications to extend across multicloud environments. There will be no need to rewrite application workflows to deal with different underlying storage protocols.
The Common Building Blocks for all APEX Cloud Platforms are:
Common Hardware Platform (Latest generation of Dell PowerEdge servers)
Common Storage Layer (Dell Block, File and Object SDS)
Tight integration with the public cloud and Kubernetes orchestration software stacks
Unique, automated management and orchestration software with the new Dell APEX Cloud Platform Foundation Software
3.    APEX SaaS Portal
So, earlier on in this blog, I mentioned that the APEX Console SaaS Portal had been expanded in order to provide the consistent multicloud management experience that is required if you truly wish to manage multiple storage types that can be deployed across different clouds and that reside in multiple locations. Hence, the APEX Console has been expanded from being a what was essentially a commerce platform to an active management platform. This has been achieved by the introduction of two new Software-as-a-Service (SaaS) applications that are both access from the APEX Console. These are as follows:
APEX Navigator for Multicloud Storage
APEX Navigator for Kubernetes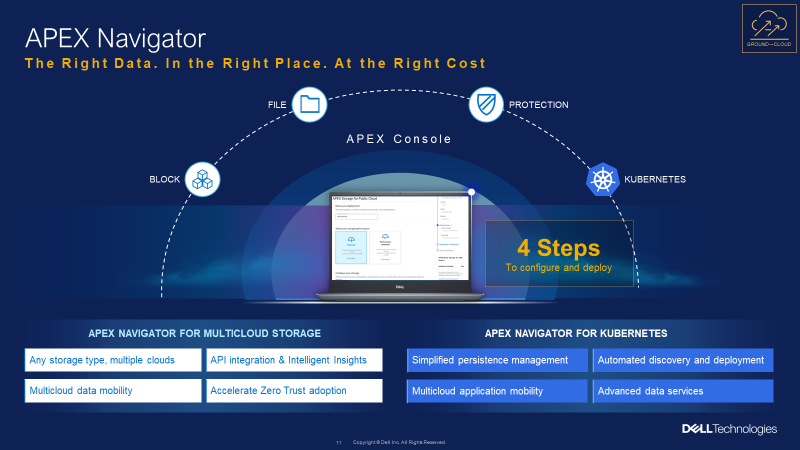 First up, we have the APEX Navigator for Multicloud Storage. This provides simple, secure, storage software management spanning multiple storage types deployed in different public clouds, all centrally accessible from within the APEX Console. With the announcements made at DTW 2023, this will initially be offered in conjunction with APEX Block Storage For AWS, but in the future it will be expanded to manage both the remaining and the upcoming Dell cloud storage offerings.
With this portal, customers can:
Centralise provisioning and management of Dell storage across multiple public clouds, including automated deployment
Drive data mobility between on-prem and public cloud environments
Integrate with your favourite automation tools, e.g. Ansible, Terraform etc
Monitor key metrics and take decisive action based on intelligent insights
Accelerate Zero Trust adoption with role-based access controls (RBAC), Single-Sign On (SSO) and federated identity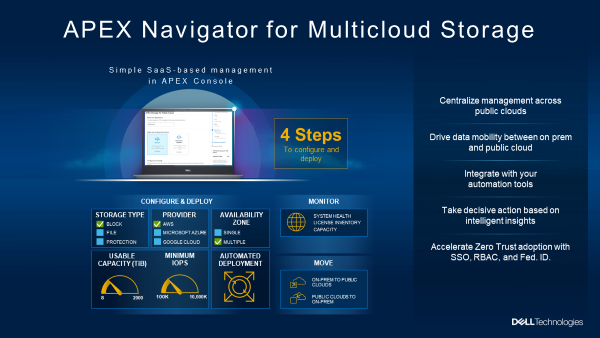 Note how this simplifies the initial configuration and deployment of APEX Cloud Storage services – customers simply choose which storage type they wish to procure, choose which cloud provider they wish to deploy the storage on, choose the availability level that is desired, as well as requesting the usable capacity and performance metrics needed. That is all that is needed in order to deploy APEX Cloud Storage using APEX Navigator for MultiCloud Storage!
To further illustrate how APEX Navigator simplifies the purchase of APEX Block Storage, take a look at the figure below that details the steps that any customer that wishes to use APEX Block Storage for AWS will follow when using APEX Navigator for Multicloud Storage:
Figure 7 – Customer Journey for APEX Navigator for Multicloud Storage (initial release – APEX Block Storage for AWS)
The other APEX SaaS portal announced at DTW 2023 is the APEX Navigator for Kubernetes, which again will also be available through the APEX Console. APEX Navigator for Kubernetes focuses on application-centric tools and advanced data services for persistent storage requirements around Kubernetes and containers such as application mobility, replication, authorization, and more. It streamlines the deployment, operation, and management of the Dell Container Storage Modules at scale across customers multicloud Kubernetes environments. This improves productivity through automated discovery & deployment workflows and should give greater stakeholder visibility and governance across multicloud environments.
To Sum It All Up….  
Well – it should by now be very obvious that the Dell Product & Engineering Teams have been very busy over the past year, when we initially started to discuss our "Multicloud by Design" strategy vision and also first announced Project Alpine to the world. DTW 2023 has been chock full of new product announcements, all showcasing the end result of these efforts. Which is great news for our customers!
Going back to the theme that I started off when penning this blog – I spend a lot of time with customers discussing their business problems and desired outcomes. It is clear that we are now delivering on the promises made in previous years and that the "Dell Multicloud By Design" Strategy clearly resonates with customers, as it addresses and resolves a number of challenges that they have.
Finally – this blog does not cover all of the goodness of the entire APEX portfolio. Neither does it cover all of the new announcements made at this years DTW – that would be almost impossible for me to do so!! But just to give you an idea of the portfolio as it stands today, the figure below provides an overview of the entire APEX portfolio – note the offerings that are inside yellow boxes, this denotes the new offerings announced during DTW 2023 (like I said just now, we have clearly been very busy!).
Figure 8. The Dell APEX Portfolio (As Of 24-May-2023)