By Simon Stevens, PowerFlex Engineering Technologist, EMEA. August 2021.
One of the topics that customers and colleagues regularly reach out to me for assistance with is the topic of managing and operating Dell EMC PowerFlex with VMware tooling. While it is true to say that a large number of our PowerFlex appliance and rack customers are managing their infrastructure using PowerFlex Manager, there are still a large number of customers who, quite understandably, prefer to use vCenter as their management tool of choice. These are typically customers whose IT Operations team happen to be a "one man band" (or their numbers can be counted on the fingers of one hand!) – there are no separate teams focusing purely on storage, compute or virtualization – so the Ops Team often have to cover all of the bases. Therefore, being able to manage everything from vSphere tooling is pretty much a "must-have" for these customers or those without specific storage knowledge.
Historically, many of our customers chose to use the PowerFlex vSphere plugin to both initially deploy and then manage PowerFlex onto their ESXi infrastructure. This was certainly the preferred method of deploying earlier versions of PowerFlex with both ESXi 6.5 & 6.7. However, the PowerFlex vSphere plugin uses the Flash-based vSphere web client, which of course is only supported with vSphere 6.5 & 6.7. Added to this, support for Adobe Flash ended on the 31st December 2020. Since then, customers with vCenter versions 6.5 and 6.7 who are using the flash-based vSphere web client to administer their systems, have needed to follow the guidance listed in the following VMware KB: https://kb.vmware.com/s/article/78589 if they are to remain using the flash-based vSphere web client. In tandem, Dell EMC issued the following advice for PowerFlex users who still wanted to use the PowerFlex plugin for VMware after the Adobe Flash end of life date: https://www.dell.com/support/kbdoc/en-us/000181275/scaleio-vxflex-adobe-flash-end-of-life-powerflex-vsphere-plugin-workaround .
With vSphere 7.0 having now been released over a year ago at the time of writing, many customers are finding themselves ready at last to upgrade their existing systems to the latest version of vSphere – If not now, then preferably well before End of General Support for ESXi 6.7 & vCenter 6.7 ends (currently 15th November 2022 for both ESXi 6.5 & 6.7 at the time of writing, but check https://lifecycle.vmware.com/#/ for current details). Which means that customers are asking what the options are now for managing PowerFlex from vCenter 7.0, seeing that the PowerFlex vSphere plugin only supports ESXi 6.5 and 6.7.
The great news is that PowerFlex has now been added to the list of storage arrays supported by the latest version of Dell EMC Virtual Storage Integrator (VSI). VSI is a vCenter plug-in that allows vSphere client users to perform storage management tasks. Support for PowerFlex 3.5.x and 3.6.x has been added into version 9.0 of VSI, which is RTS on the 23rd of August 2021. More importantly, as this version of VSI works with both vSphere versions 6.7x and 7.0x, it is the perfect answer for those customers who wish to use PowerFlex with the latest versions of vSphere. With VSI 9.0, vSphere administrators will now be able to perform the following PowerFlex Storage management tasks:
Register PowerFlex systems

View/Register/Edit/Unregister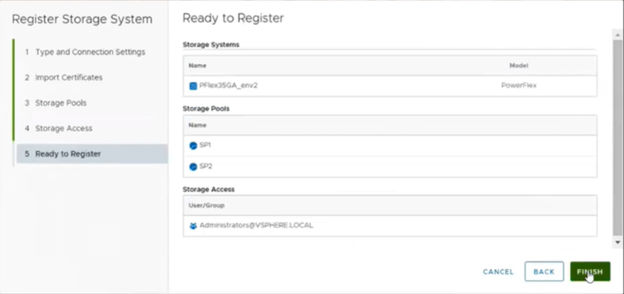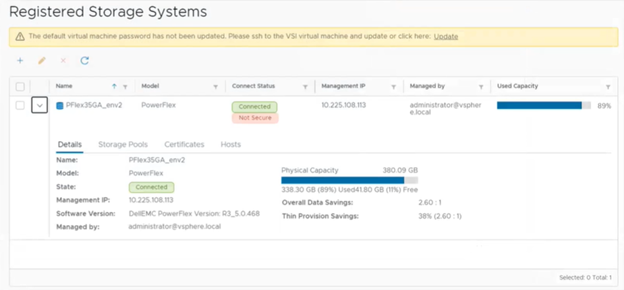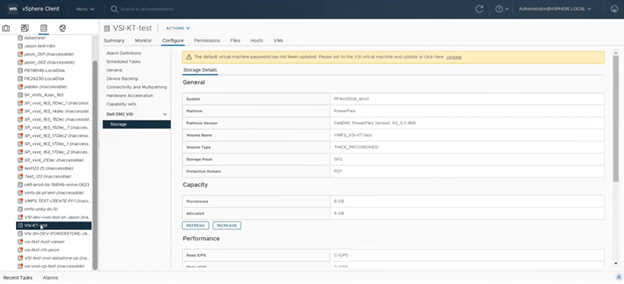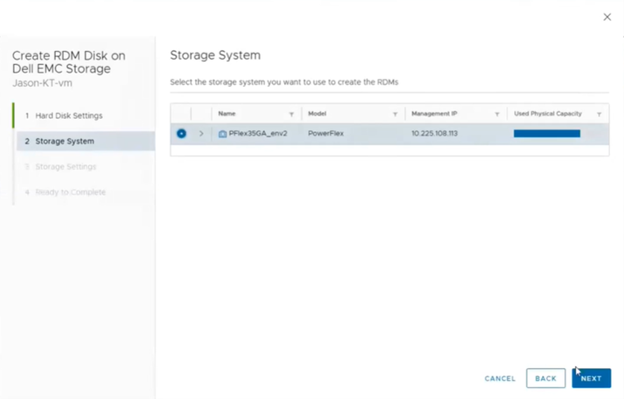 Manage hosts (SDCs)

View/Install/Connect/Upgrade/Uninstall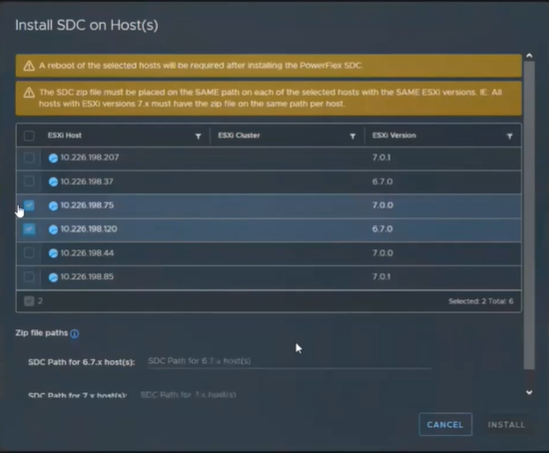 You can also watch the following video, recorded by my colleague Roy Laverty from Dell EMC PowerFlex Technical Marketing, which provides a quick overview of the main integration points into VSI: https://www.youtube.com/watch?v=r3l9-QkabAE .
This release is great news for those PowerFlex customers who have wanted to manage PowerFlex from the native VMware tools. Expect to see more PowerFlex integration being built into VSI with future releases and as always, if you have any questions on this, you can reach me either via email, or on Twitter @MCFlashHeart