By Simon Stevens, Dell Technologies Engineering Technologist. June 27th 2023.
In case you have missed the recent Github notifications, you will hopefully be pleased/thrilled/overjoyed to hear that the latest version of the Dell CSI Drivers were released a few days ago. While this release may not appear to be as chock-full of "new features and functionalities" as some of the more recent versions have been, there are still a few key points addressed in this release. This can be explained in part by the maturity of the CSI driver itself and how a lot of the "pressing issues" that have been highlighted to us by customer feedback have now been resolved. As an example – the ability to apply a "friendly name" to the SDC, which was introduced in the 2.6.0 version of the driver, was one that has hugely helped to simplify the lives of k8s cluster admins.
It is also worth remembering that the Dell CSI drivers are now considered as one of the constituent parts of the overall Dell Container Storage Modules (CSM) family. Dell's CSM is made up of multiple components including modules (enterprise capabilities), CSI drivers (storage enablement), and other related applications, such as deployments, updates, feature controllers. However, it is fair to say the the CSI drivers are vital – without them, there would be no standard way to provision persistent volume claims from PowerFlex storage to a Kubernetes cluster.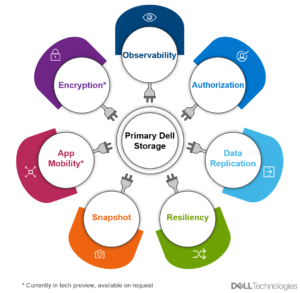 First, as is always the case with each CSI Driver release, we have added support for the most current release of Kubernetes, which is version 1.27 as of this release. The developers do their utmost to stay in lockstep with the versions presently supported by the Kubernetes project itself; at the time of writing this blog, the project is maintaining release branches for the three most recent minor releases (1.27, 1.26, 1.25), so that is indeed what we also support with our CSI drivers. Dell maintains the view that customers will not be using versions of Kubernetes that are over a year old in production environments. You can always find more detailed information regarding Kubernetes release versions and schedules here: https://kubernetes.io/releases/ .
The other "big ticket item" added into this release is support for Red Hat Openshift Container Platform (aka "OCP") 4.12. This of course matters to customers because version 4.11 recently went into Maintenance Support, so our joint customers are always looking at us to provide CSI drivers that are tested & proven compatible with newer versions of OCP. It is worth remembering that Dell's CSI Drivers are fully supported by Dell Support – which means that, should a customer encounter an issue when using any of the Dell CSI drivers, then they can raise an SR with Dell Support, who will follow the usual Dell Support Process. This provides better outcomes than simply relying on "The Community" to resolve issues – and don't forget, this applies to all of the Dell CSI drivers, for all of our supported storage platforms – PowerFlex, PowerStore, PowerMax, PowerScale or Unity systems. This is on top of obtaining support via the Dell Slack or Github routes – you can find more details on these support routes here: https://dell.github.io/csm-docs/docs/support/ .
The other feature added into this release of the PowerFlex CSI driver is the ability to support the installation of the CSM 'Resiliency' Module using the Dell CSM Operator. The Dell Container Storage Modules Operator is a Kubernetes Operator, which can be used to install and manage the CSI Drivers and CSM Modules provided by Dell for various storage platforms. As we move towards deprecating the use of the original Dell CSI Operator, we are advising customers to move to using the Dell CSM Operator instead for automated installation and updating of the Container Storage Modules and CSI drivers.
Full details about the Dell Container Storage Modules can be found here: https://dell.github.io/csm-docs/docs/ .